Women designers to watch
DesignSingapore Council highlights some of the city's most exciting female designers, from established creatives to up-and-coming design talent
---
Tiffany Loy: Textiles
Graduated from NUS, 2010 and Masters from Royal College of Art in London in 2018
--
Innovative textiles that combine both the traditional techniques of weaving and unique alternative production methods to create experimental pieces and custom one-off artworks
Tiffanyloy.com | @tffnyly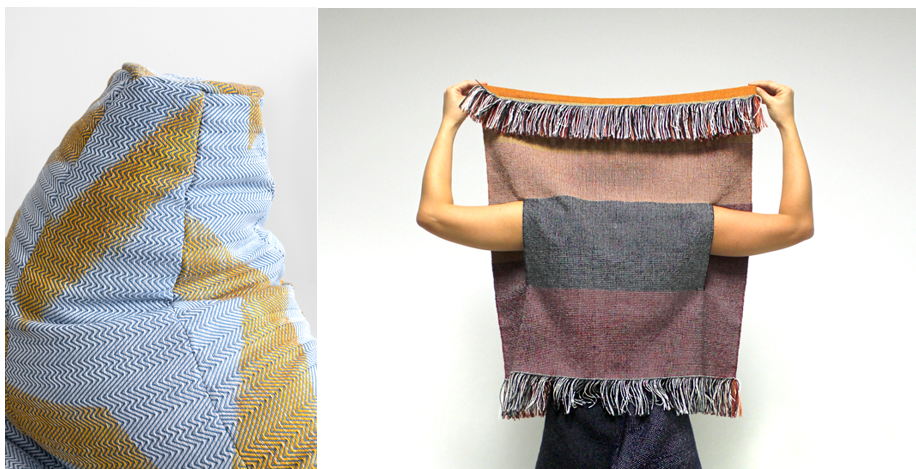 Tiffany discovered her love for textile whilst exploring fabric manipulation techniques during her time at the Design Incubation Centre at the National University of Singapore (NUS). Her interest sent her to Kyoto where she took a textile weaving course in 2015, before she returned to Singapore to pursue textile design as a career. In 2018, Tiffany undertook a Masters degree in textiles at the Royal College of Art in London on a DesignSingapore Council scholarship. She now creates both commercial pieces and one-off artistic works, combining both traditional techniques and alternative production methods with ​ her passion for innovative design.

Loy has designed for several brands, including a collection for The Rug Maker and The Everyday Tote canvas bag for Museum Label. Recent artistic projects include a partnership with Alma Leather to create a "treasure chest" for Wallpaper* Handmade's 10th anniversary showcase in 2019; later that year, a winning entry to a competition celebrating the 50th anniversary of Sacco with a contemporary interpretation of Ikat - presented during Milan Design Week; and a piece hosted by CitizenM Bankside hotel in London - made in collaboration with British heritage silk mill Gainsborough Weaving.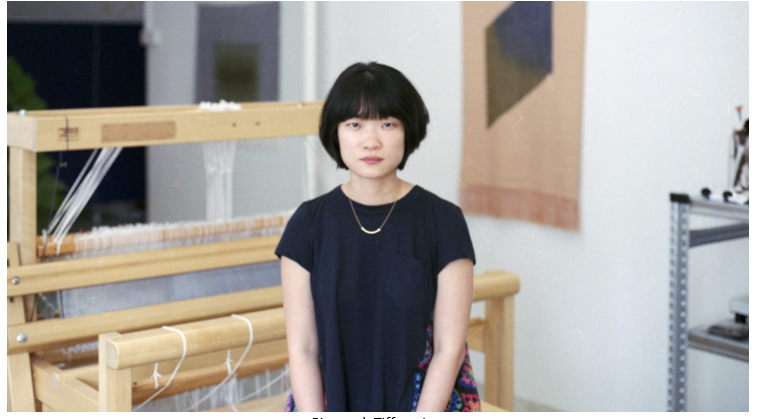 "Design is increasingly integrated with craft and art as designers seek inspiration from craft techniques as well as emotive qualities in art. My background in textile-weaving has allowed me to apply tacit knowledge from this time-honoured craft to contemporary design projects, placing the past and future on the same plane." - Tiffany Loy
---
Olivia Lee, Olivia Lee Studio: Multidisciplinary
Graduated from Central Saint Martins College of Art & Design, London, 2008
--
Grounded by an industrial design approach, Lee's works span furniture, spaces and products to create beautiful multi-concept, award-winning works
Olivia-lee.com | @visuallyolivialee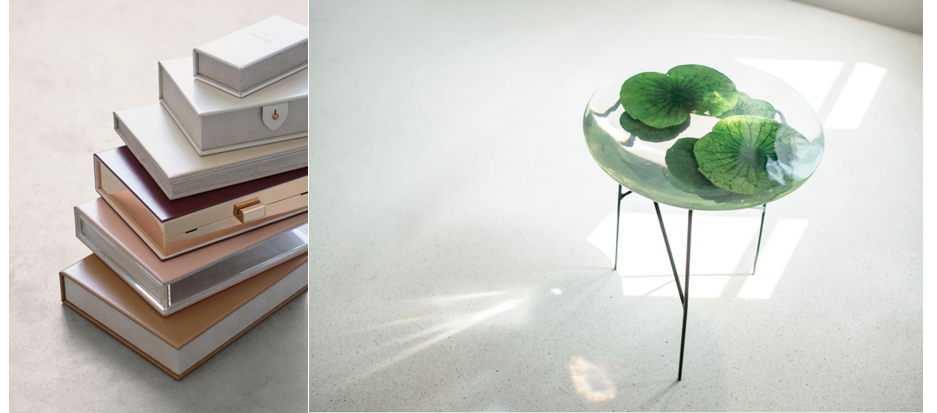 Multidisciplinary designer Olivia Lee is one of Singapore design's most recognised names, topping her class at Central Saint Martins College of Art & Design, winning the opportunity to represent her class at a branding workshop in LMVH. Her graduation project "Limited Edition Designer Dolls" went viral, landing her a guest illustrator role for ICON Magazine. She established her own studio in Singapore at the age of 28 with a commitment to pushing boundaries across multiple disciplines.
During her time in London, Olivia worked as a designer for Sebastian Bergne while simultaneously collaborating with a diamond nano-engineering researcher, serving as a studio coordinator for the ICSID World Design Congress in 2009 with the New York ARUP Foresight team and was invited by he British Council to participate in their Milan Sketchbook project.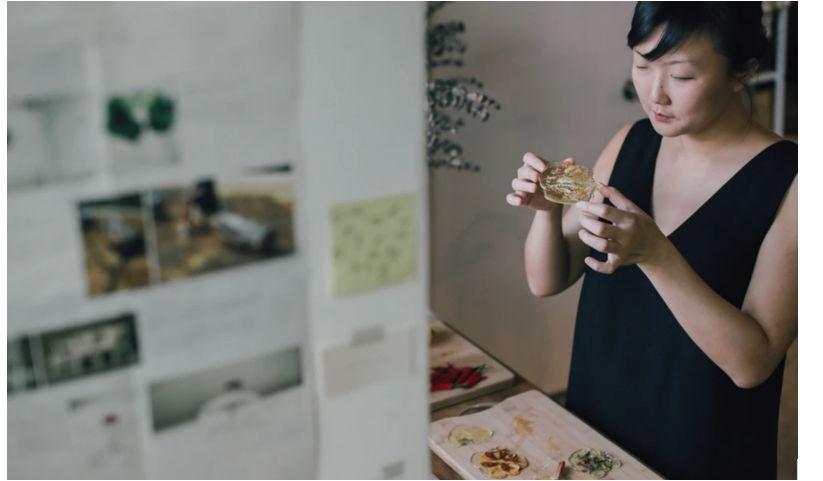 Grounded by an industrial design approach, Lee's works span furniture, spaces and products, including projects such as scenography for Hermes, a collaboration with Singaporean artisan leather company Bynd to create Books of Life - a series of leather-bound accessories that include compartments for ​ life's little secrets within them; multi-concept workspace Wonder Facility; and Instruments of Beauty - a set of nine beautifully-designed tools for creation that employ the principles of the golden ratio across various formats and functions including a protractor, a viewfinder, stencil, calipers and kaleidoscope.
Passionate about nurturing design talent of the future, Olivia lectures at institutions such as the NUS's Division of Industrial Design - where she also facilitates a luxury retail design platform - and at Singapore Polytechnic and Nanyang Academy of Fine Arts.
"To me, design has always been about striving for ideals and guiding humanity towards it. Design has never been just a rational problem-solving exercise nor a means to fuel excess and consumption. The global challenges that lay ahead of us are so pressing, nebulous and daunting that it is easy to be cynical of design's potency. I make my contribution to the future of design through my practice: in carrying a torch for design idealism, optimism, thought leadership and a sense of wonder. And, pushing for a design approach that dares to ask, "Is what the market wants, what it really needs?" - Olivia Lee
---
Priscilla Shunmugam, Founder & Designer, Ong Shunmugam: Fashion, Home Accessories & Furniture
Ong Shunmugam, Founded in 2010
--
London based womenswear designer creating bold, traditional Asian-infuenced furnishings and textile-based home accessories that explore heritage and identity created for the modern urbanite
Ongshunmugam.com | @ongshunmugam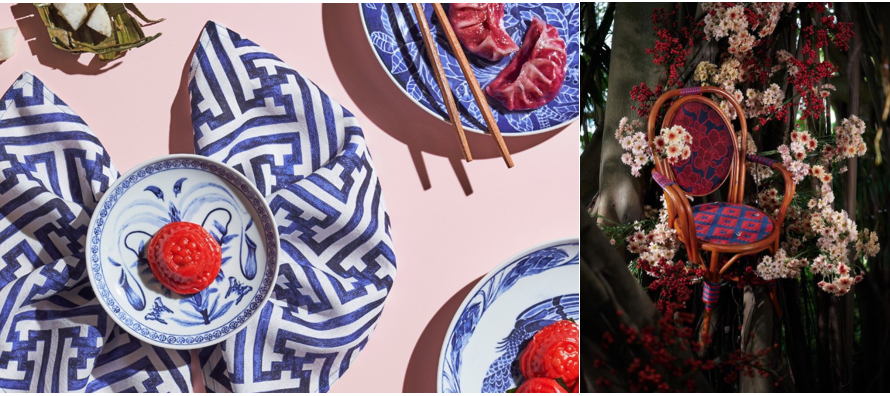 Womenswear designer Priscilla Shunmugam - whose creations have been defined by their bold patterns and Asian-influenced details - has always had a knack for making traditional styles appealing to the modern urbanite. Taking her signature heritage-with-a-twist to new realms, the fashion designer has recently broadened her talents to encompass tableware (the Suvarnabumi collection launched in 2019 and comprises porcelain pieces, cutlery, placemats and napkins), and now furniture and home accessories. Currently living in London and restless during lockdown in 2020, Shunmugam conceived a new expression of rattan in a collection of dining chairs, tables, divider screens and planters. Using textiles from across Asia, Shunmugam continues to draw upon the themes of culture, heritage and identity throughout her work.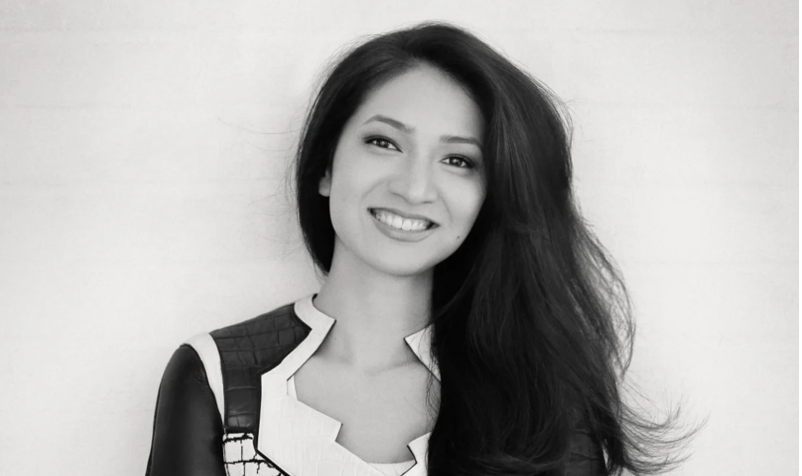 ---
Poh Yun Ru, Visions of the Future Exhibition - 'Rewind': Product
Graduated from the ​ National University of Singapore in 2018
--
Socially-focused product design that seeks to create a positive impact on society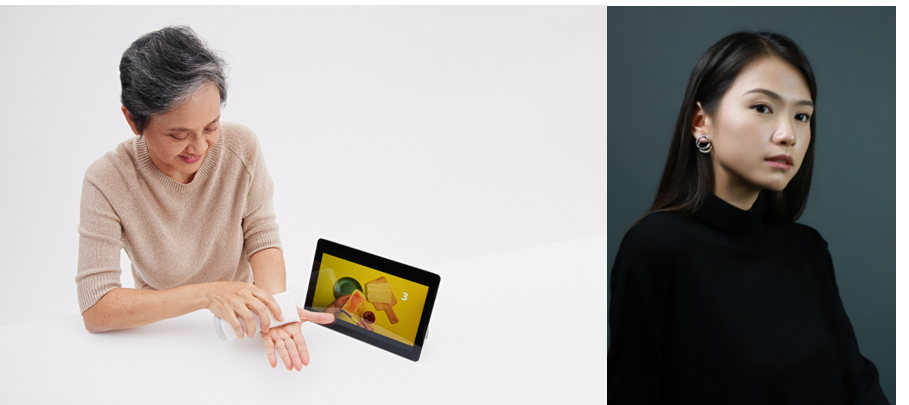 An industrial design graduate from the National University of Singapore, Poh Yun Ru is a socially-engaged product designer who seeks to create a positive impact on society by improving the lives of others through her work.
As part of the recent Visions of the Future exhibition from DesignSingapore Council, which imagined future trends in the wake of the pandemic, Poh created Rewind to aid the elderly with more engaging Alzheimer's therapy, particularly when home-bound. The device is designed for those who rely heavily on repetition in everyday life — via sounds and sights — to retain memory. A motion-tracking tool produces visual and audio feedback through a paired device, unearthing personal memories that users associate with the sensorial interaction. The project defines her design philosophy and Poh has been working with the NUS Design Incubation Centre to expand its effectiveness and reach. She currently works at the DIC to support fellow designers accelerate and realise their ideas.
Visionsofthefuture.sg
---
Goy Zhenru, Founder / Principle, Goy Architects: Architecture
Founded Goy Architects in 2015
--
Singaporean founder of a female architecture collective that seeks to bring an appreciation of Asian culture, crafts and heritage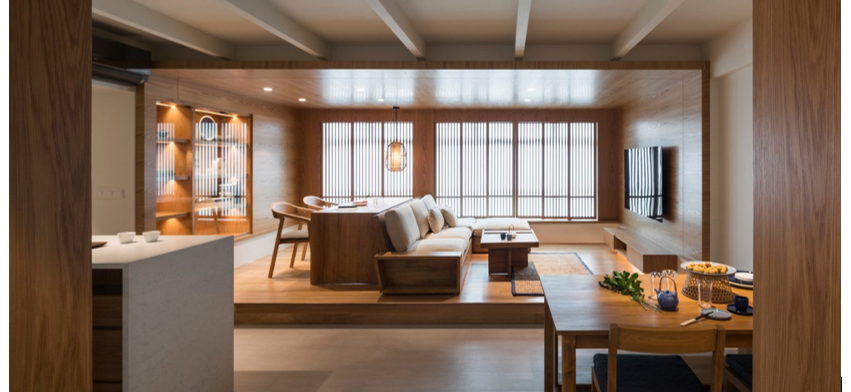 Educated at the National University of Singapore and in Switzerland at the Eidgenossische Technische Hochschule in Zurich, Goy Zhenru set up her architecture practice in Singapore in 2015 - starting with an organic vegetable farm stay in Sukabumi, Indonesia when her friend approached her to design her family's dream project.
From this very first brief, relating architecture to its roots and adapting traditional forms to reflect a spirit of modernity has been at the heart of the practice's work. Goy has since built a female collective with two partners in Bali and Chiang Mai that enable the cross-pollination of ideas, materials and crafts from around Southeast Asia.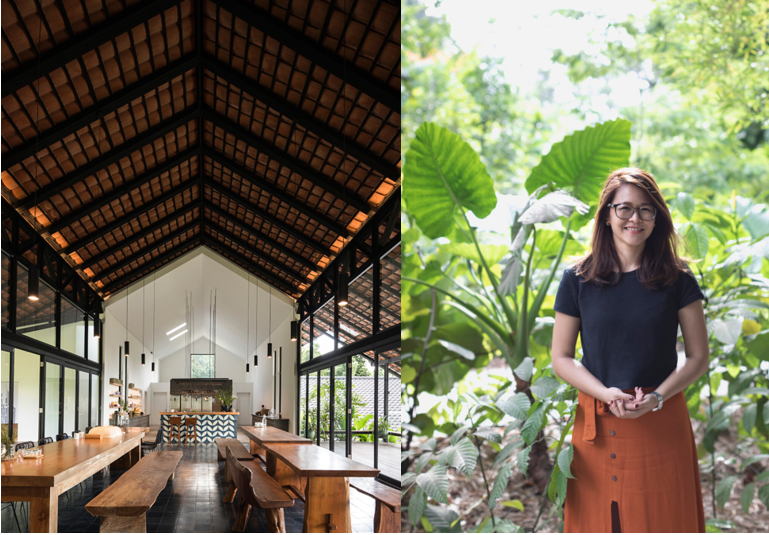 Goy's highly-considered and varied projects include learning facilities, residential and industrial building. One notable project is The Heng House - awarded gold for Best Residential Design - Private House at the 2018/19 Design Excellence Awards by Interior Design Confederation Singapore - a restoration project that needed to cater for a multigenerational family as well as providing both private spaces for family members and those that would suit their work with the local community. Goy also has a keen interest in producing custom ranges of furniture and decorative objects to complement the interior and architectural works.
She says: "We are mindful that our profession is one with significant impact spatially, socially and environmentally. Our hope for the future is for us to be better guardians of the physical environment, to create works that protect and bring about more appreciation of our regional richness in culture, crafts and heritage."
Goyarchitects.com | @goy_architects
---
Yu Liew Hua, Secret Life of Trees: Furniture
Secret Life of Trees was founded in 2019
--
Bringing meaning to space through thoughtfully-created pieces made in reverence to the trees they came from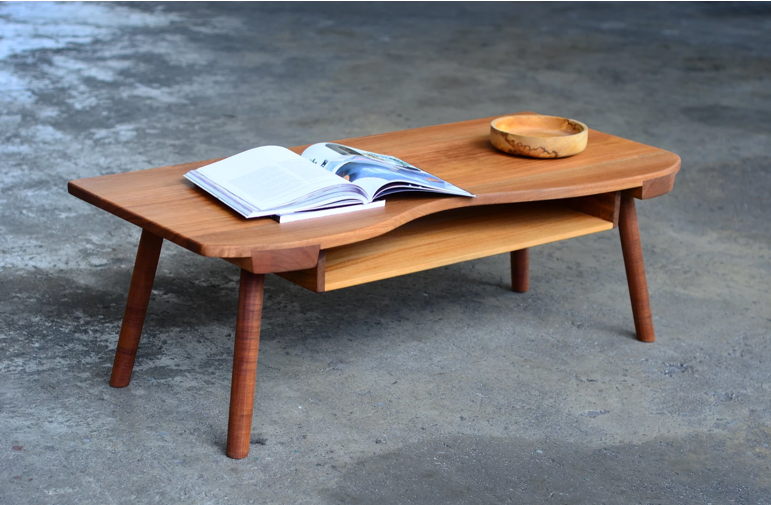 Having freed herself from her desk-bound job in 2016, Yu Hua worked at local furniture restoration shops before using all her savings to fund a course in furniture design, making and restoration at the Chippendale International School of Furniture in Scotland. Here, she relished time walking in the surrounding forests, soaking up the landscape with a growing respect and love for the materials she was learning to work with. After an apprenticeship in Canada with John Thompson - who trained as a temple carpenter in Japan - Yu Hua returned to Singapore, establishing Secret Life of Trees in 2019.
The designer-maker's philosophy is that "thoughtfully created objects give meaning to a space", lending her pieces a sculptural quality.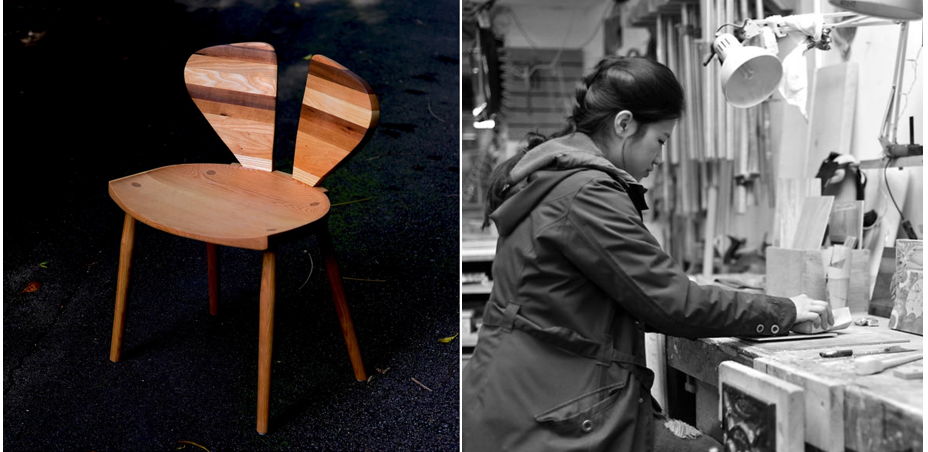 In her words: "I hope the objects I create make people feel a repertoire of positive emotions – perhaps the same quiet joy I feel when working with my hands – and reflect on nature's gifts; I hope they are a reminder of the fragility of our environment and of the diminishing resources on earth; I hope it encourages us all to be more mindful of the things we use and throw – and ultimately, to do less of the latter by choosing to purchase and use furniture and objects that are thoughtfully and lovingly made, and that are made to last."
Secretlifeoftrees.com | @secretlifeoftrees
---
Cherin Tan, Principle / Creative Director, Laank: Interior Design
Boutique Interior Design company, Laank, ​ was founded in 2012
--
A human-centric approach that gives spaces expressive narratives from this female-led practice
Laank.com.sg | @thelaank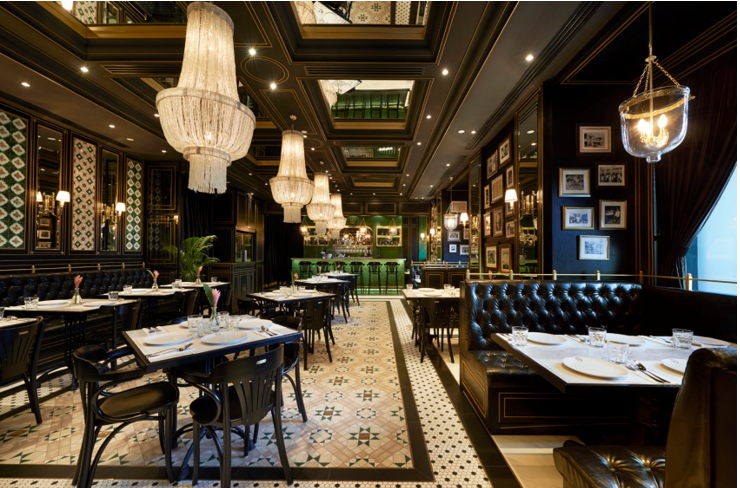 Following her studies at Curtin University, Cherin worked with the likes of WOW Architects and spent six years at interior design firm Asylum before co-founding her boutique company, LAANK, in 2012. The practice creates highly developed, experiential spaces across Hospitality, F&B, office and retail environments as well as foraying into lifestyle product design. Cherin takes a human-centric approach with heartfelt concepts and expressive narratives, making spaces innovative and considered, not just functional. As she says, "We are driven to create spaces based on how we move, feel and live… design should be for the people and good design carries value beyond the aesthetics. Every space has its own voice waiting to be heard."
Projects include Singaporean chef Violet Oon's restaurants, Thailand's Boathouse Phuket, several projects within Resorts World Sentosa, Epion Aesthetics Medical Spa, homegrown eyewear brand O+ and natural wine bar Rebel Rebel. Cherin is also the co-founder of LAAT – a lifestyle brand which repurposes waste and unwanted materials into one-of-a-kind up-cycled furniture and everyday items.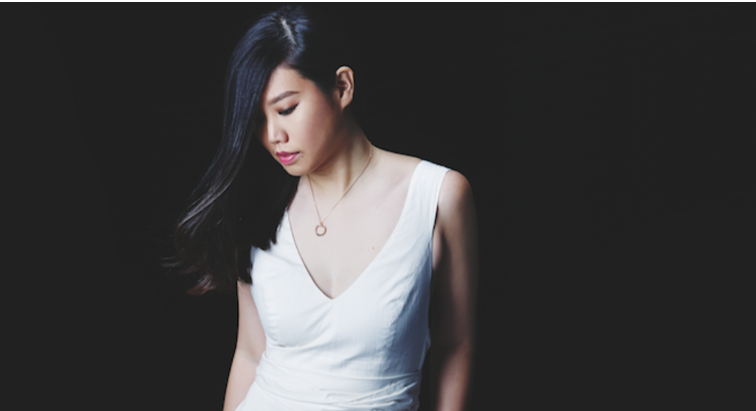 Speaking about the future of design, Cherin said:
"I often joke that the easy part is the designing, the complicated part is getting the design fulfilled. My team is almost all female and I feel a responsibility to mentor and nurture more young designers - I want them to find their voice and hold on to it. I groom my designers to be tough (especially mentally), to be brave in what they do, to have the confidence to speak their minds and stick to their gut. And I remind them to always do so with patience and respect."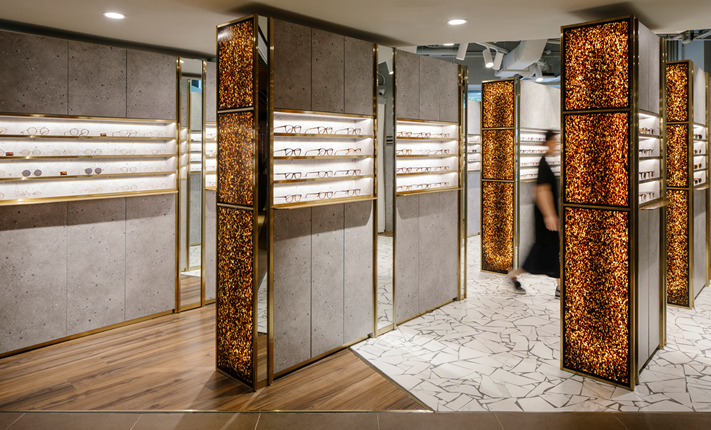 ---
Angelene Chan, Chairman, DP Architects: Architecture
Angelene has been part of DP Architects since 1990, becoming CEO in 2016, and is now Chairman
--
Newly-appointed Chairman of one of the world's most prominent architecture firms, having driven the company's international expansion and led award-winning projects
Dpa.com.sg | @dparchitects
A hugely accomplished individual, Angelene has just completed her term as CEO of global practice, DP Architecture - a position she has held since 2016, having first joined the firm in 1990. Angelene's personal accolades include being honoured as one of Singapore's 20 leading architects under 45 by the Urban Redevelopment Authority in 2010; receiving the President's Design Award (P*DA) ​ for the Sunray Woodraft Construction Headquartersin 2015; and was the first female architect to be named P*DA Designer of the Year in 2018.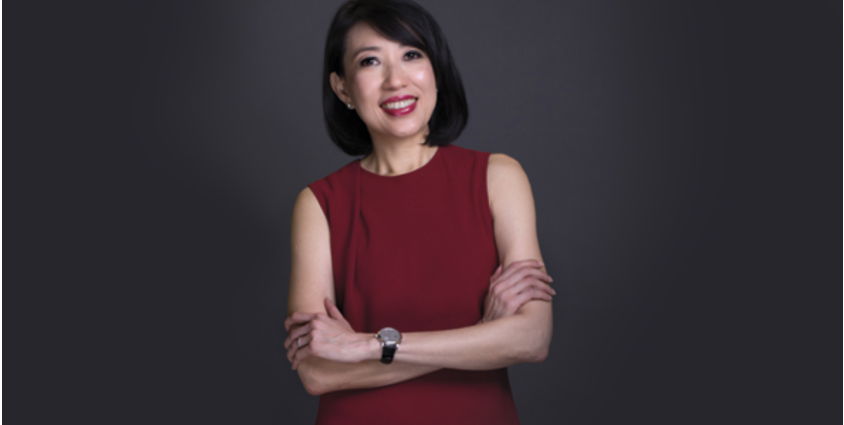 Angelene has built an impressive portfolio of works, with a talent for balancing the requirements of practicality and functionality with smart, purposeful design and a distinctive sense of place. Key, globally-recognised and award-winning projects that Angelene has spearheaded include The Dubai Mall (one of the world's largest shopping malls), Resorts World Sentosa - a $6.5bn integrated resort in Singapore - and the transformation of Wisma Atria shopping mall on Singapore's Orchard Road.
During her tenure as CEO, Angelene has grown DP Architect's international presence and has driven the company's design and service delivery benchmarks through increased specialisation in architecture-related disciplines and use of technology. In her new role as Chairman, her aim is to continue this work, driving the business's global and specialist offices strategically and to even higher levels. Angelene also sits on Singapore's Board of Architects, Urban Redevelopment Authority, Professional Engineers Board and Sentosa Development Corporation Board. She is also the Chairman of URA Design Advisory Committee and the Vice Chairman of Dover Park Hospice.
---
Yah-Leng Yu, Creative Director/ Principle, Foreign Policy Design Group: Design and Branding
Foreign Policy Design Group was founded in 2007
--
Influential founder of an award-winning Singaporean think-tank and design and branding agency
Foreignpolicy.design | @yahlengyu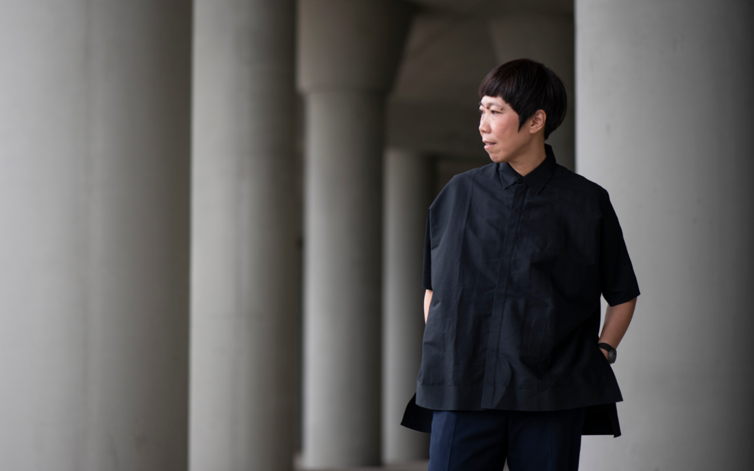 Yah-Leng Yu trained at the Art Institute of Boston and lived and worked in New York before returning to Singapore to set up Foreign Policy Design Group with her husband, Arthur Chin. An award-winning design and branding agency and think-tank, Foreign Policy Design Group champions innovative, human-centric organisations embracing design-centric business models - particularly traditional businesses looking to maintain their relevance without losing their heritage. Projects include branding and design for Roger&Sons furniture makers, The Working Capitol co-working space and the Gallery & Co cafe at the National Gallery Singapore.
Yah-Leng Yu is President of The Design Society Singapore and has sat on the advisory board of the Temasek School of Design. She was named on the Tatler Singapore's 300 List of the country's most influential people, and is also one of the Tatler Tribe for Generation T - an annual roster of go-getters, achievers and shapers in Singapore.
Asked about the future of design, Yah-Leng said: "I hope to continue to fly the flag in the international graphic design community and events. I see myself as someone who can be the bridge between the global design scene and the local one, helping to connect and grow the design industry. It's always in me to try to push the envelope and boundary of design, hoping to be an inspiration to younger designers.
It's an interesting time in Singapore; young people are interested in this field and society now acknowledges design as a "proper" job . I hope that as we produce more great work, we can continue to spread the good gospel of the values and importance of design for the business world and the modern lifestyle."
ENDS
---
CONTACT
For further information, high res images or interview opportunities, please contact Jacinta Da Rocha Goulter at [email protected]
---
ABOUT DESIGNSINGAPORE COUNCIL
The DesignSingapore Council was established in 2003 to help develop the nation's design sector. This follows from the Singapore's Economic Review Committee report, which identified the creative industry as one of the three new sectors (including education and healthcare) for economic growth. Developing the design sector can help to enhance Singapore's value proposition; as well as contribute to the country's economic growth and social progress.
The vision of the DesignSingapore Council is for Singapore to be an innovation-driven economy and a loveable city through design by 2025. As the national agency for design, the Council's mission is to develop the design sector, help Singapore use design for innovation and growth, and make life better in this UNESCO Creative City of Design. Our work focuses on three areas. First, we help organisations and enterprises use design as a strategy for business growth; and for excellent delivery of public services. Second, we nurture industry-ready talents skilled in design and innovation; and engender a design-minded workforce for the future economy. Third, we advance the Singapore brand through raising design appreciation on homeground; and making emotional connections with people across the world.
Singapore was designated a UNESCO Creative City of Design in December 2015. This designation supports the development of a creative culture and eco-system in Singapore that fully integrates design and creativity into everyday life. It is also an opportunity for Singapore to collaborate internationally with the cities of the UNESCO Creative Cities Network (UCCN). The City of Design Office is sited within the DesignSingapore Council to coordinate and implement programmes that contributes towards the UCCN mission.
www.designsingapore.org / @designsingapore